A stroll through Tianfu Ecological Park on a weekend is a relaxing activity for families in Kunshan, a city in eastern China's Jiangsu Province. But while walking through the seemingly virgin forest, one may hear the roar of a passing bullet train. This is not a coincidence—the park was built right on a gravel pit left by construction of high-speed rails.
Situated at the Yangtze River Delta, Kunshan serves as the eastern gate to Jiangsu Province from Suzhou to the west and is bordered by Shanghai to the east. The county-level city has managed to realize fast development while preserving its environment at the same time, which awed international students from Beijing Normal University when they visited in April.
"This place is wonderful," exclaimed Mahgoub Fahmi Ahmed Abdelraheam, a student in the IMBA program of the Emerging Markets Institute of Beijing Normal University. He was a banker in Sudan. "Its GDP ranks high, it has groves of trees everywhere and the air is really clean. I want my whole family to visit this city in the future."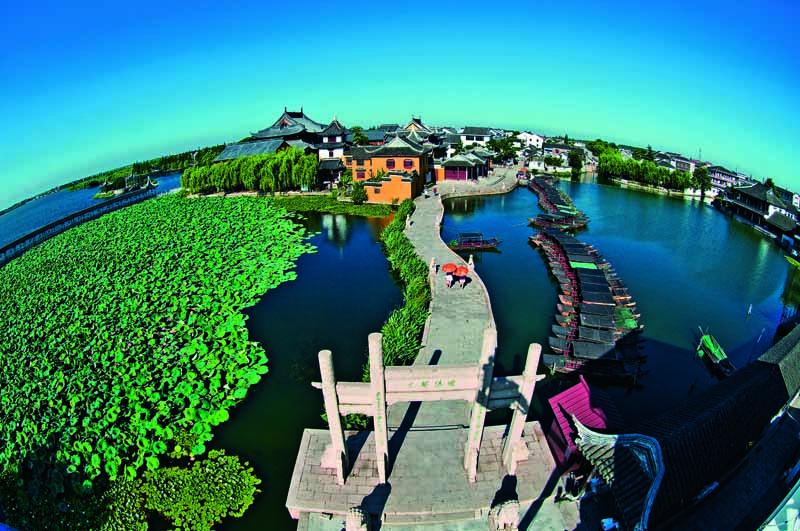 Jinxi Town, part of Kunshan, is famous for its environment. IC
Miraculous Transformation
"In 2017, Kunshan became China's first county-level city with GDP over 300 billion yuan and financial revenue over 30 billion yuan," said Zhang Yuelin, deputy secretary of the Kunshan Municipal Committee of the Communist Party of China (CPC) while briefing the students on the city's development. "It topped the list of China's small and medium-sized cities in terms of comprehensive strength, investment potential, quality of new urbanization, innovation and entrepreneurship."
In 1983, Kunshan's GDP from industry first surpassed that of agriculture, a milestone in its transformation from an agricultural society to an industrial one, which was the first of the six major transformations the town has achieved since China's reform and opening-up policy was launched four decades ago.
Since then, Kunshan has witnessed the transformations from an agricultural town to an industrial hub, from closed development to open development, from a town with scattered factories to a city of orderly industrial parks. All of these trans formations contributed to Kunshan's miraculous growth, which has left the city with a GDP larger than many developing countries.
"I think the transformations that Kunshan has undergone were very significant and that we should learn from its technological innovation," said Philip Mapak Maker Makoi, another student from Beijing Normal University and once a teaching assistant from the University of Bahr El Ghazal in South Sudan.
Kunshan created a modern economy supported by emerging and hi-tech industries, advanced manufacturing, a modern service sector and urban agriculture.
"Generally, unless it has extremely good conditions for agricultural development, the first mission for a developing country is to develop industry," opined Hu Biliang, dean of the Emerging Markets Institute. "Kunshan's GDP is double or triple that of some of the students' home countries. Its experience in transformations can be used by developing countries for their own growth."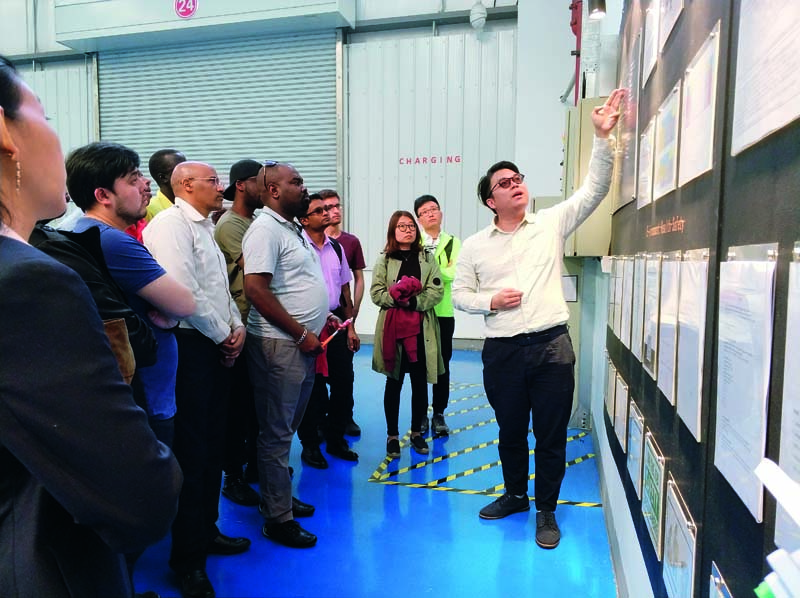 Students from the Emerging Markets Institute of Beijing Normal University visit a distribution center of ZARA in Kunshan, Jiangsu Province. by Zhou Xin
Smart and Green Development
Tianfu Ecological Park, built in 2013 over a gravel pit, has developed into a national wetland park, which evidences the city's persistent efforts in protecting the environment during its fast economic growth.
As one of the country's few wetland parks with a permanent rice field, the park also places special attention on balancing the rice field and the wetland.
In the "Intelligent Kunshan" special class, students become acquainted with the city's smart system that monitors traffic, river conditions, network connection, security, government administration and more throughout the city in a real-time manner. Screens will display the information of a car that has just been in an accident, facilitating the handling of traffic accidents.
"Kunshan's endeavors to develop a smart city are a great example of using big data to enhance public services," said Beksultan Mametibraimov from Kyrgyzstan. "Data can sometimes open a door to the future and enable forecasting so you can move forward more confidently. Awareness about patterns of the traffic congestion and criminal activities will help the government develop more effective policies. One of the reasons I chose this IMBA program was data analysis, which is part of my job. It is quite impressive how they have used the data."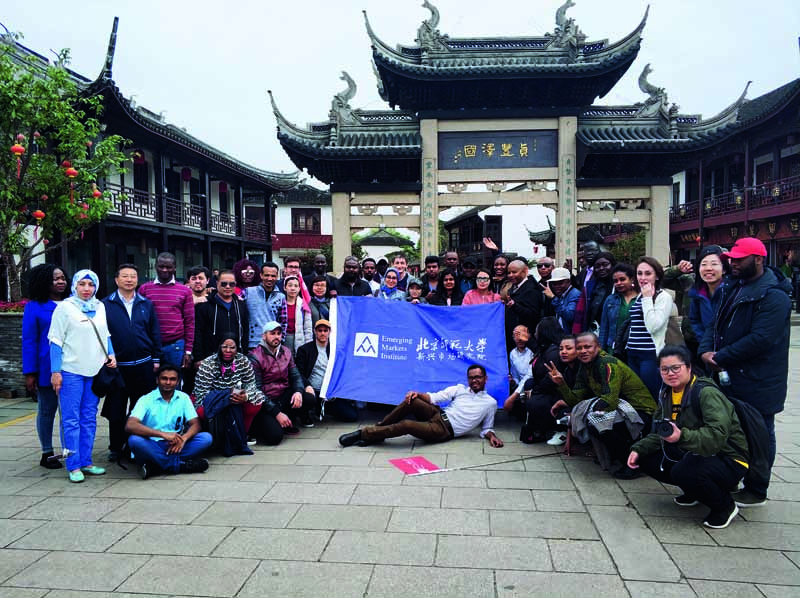 Students from the Emerging Markets Institute of Beijing Normal University pose for a group photo in Zhouzhuang, an ancient town in Kunshan, Jiangsu Province. by Zhou Xin
A Special MBA Program
In contrast to traditional MBA programs, this program offers in depth teaching about China's experience in economic and social development in addition to high-quality lectures delivered by celebrated economists and politicians.
"I'm going to tell everyone back home to use WeChat," said Mahgoub. "They would consider it crazy to pay for something by scanning with your phone."
Certainly, this program is like no other. "We teach things that cannot be learned at Harvard," declared Hu. "Of course universities in other countries are going to introduce curriculum about China, but the Chinese people know China the best. Foreign students learned how some rural areas in China eliminated poverty during a visit to Shaanxi Province. In Kunshan, they have got an idea of how China got rich."
Hu was inspired by a master's program in which he enrolled in 1989 in Germany alongside 45 other students from 43 developing countries in Asia and Africa. That program laid a solid foundation for his subsequent study and career.
This is part of the reason Hu is so enthusiastic about this program. "I'm excited to take the baton," he said. "These students will definitely reap big-time benefits."